Osborne Park Pharmacy has been in operation for over 60 years and as such, has strongly established ties to the local community.
The managing pharmacist Louis has been a Pharmacist for over 15 years and has been proprietor at Osborne Park Pharmacy since 2005. He has a particular interest in Aged Care. When not in the Pharmacy he enjoys time with his three children, or riding his bike.
Osborne Park Pharmacy has been located in Main Street, Osborne Park since it opened. It has a strong community focus and donates products to various community groups such as Osborne Park Primary School, Asbestos Disease Association, Saint Kieran School.
At Osborne Park Pharmacy we strive to offer our customers the highest quality service in all aspects of pharmacy products and pharmacy services.
Our Experienced team are knowledgeable in all aspects of Community Pharmacy, with a specialization in the servicing of Aged Care Facilities, Influenza Vaccinations and MedsCheck .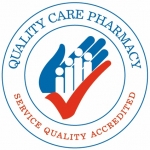 Osborne Park Pharmacy is an accredited "quality care" Pharmacy.